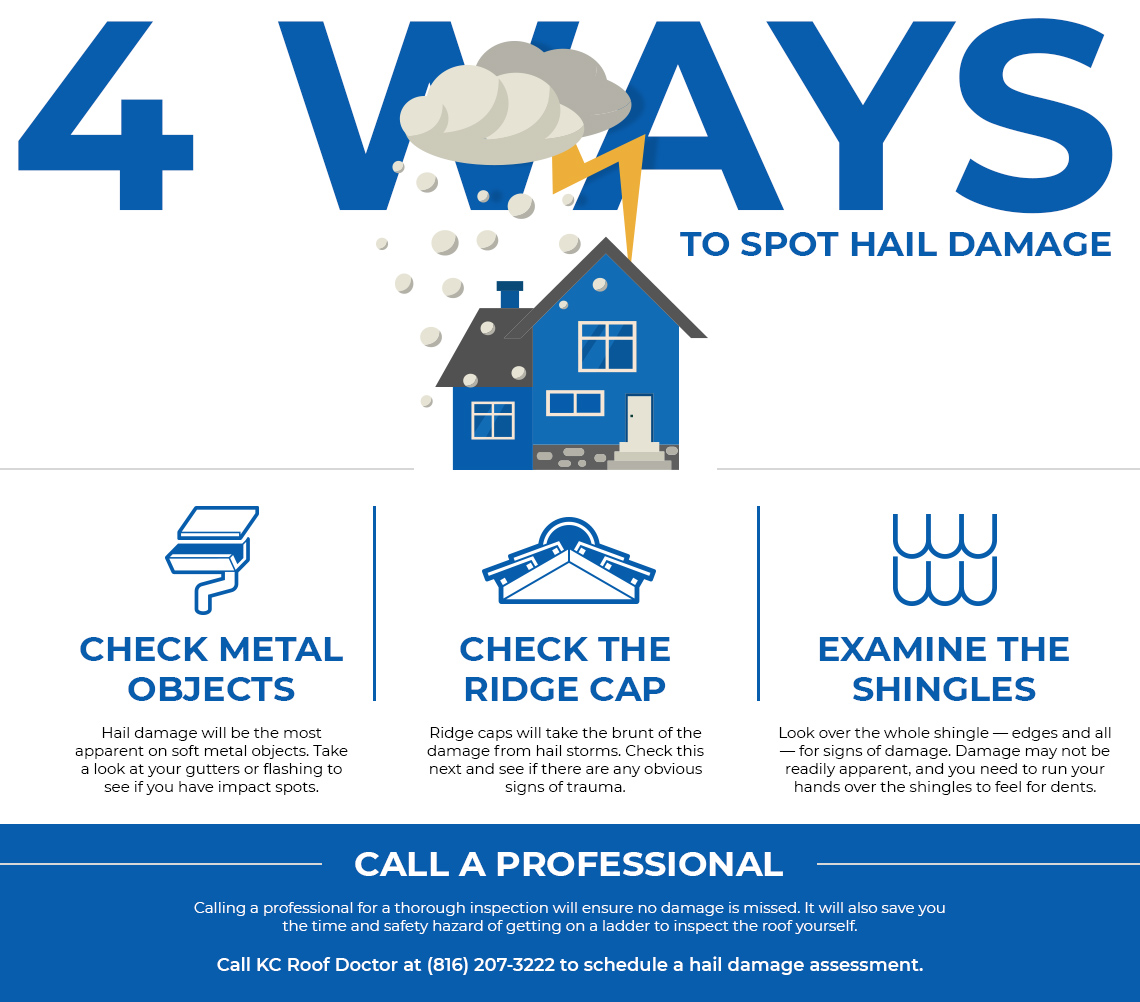 At KC Roof Doctor, we are intimately familiar with the effects of hail damage on roofs. Our highly experienced roofing experts have years of experience looking for signs of damage, making the proper diagnosis, and applying the right solutions.
Hail damage can be especially deceptive if you can't readily see its effects. Sometimes it can take up to a few years for hail damage to lead to signs of visible water damage in your home.
By then it's usually too late to submit a claim. Most insurance companies only give you a year to submit a claim after you've suffered a covered loss.
Insurance and Hail Damage Claims
One of the biggest benefits of working with KC Roof Doctors is help dealing with insurance companies after you've suffered the ill effects of a hail storm.
We know you pay good money for your homeowner's policy, and we want to make sure you get every dime of what you're entitled to.
When dealing with roofing claims, insurance companies look at them in terms of cosmetic damage (merely dealing with outward appearances) and functional damage (damage that actually affects the integrity of your roof).
Sadly, insurance companies will often try to pass of functional damage as merely cosmetic damage in order to avoid having to pay out for claims.
Getting a professional roof inspection is another tool in your belt to prove that the damages you've sustained require more than just a cosmetic touch up.
On top of that, we'll help take the guesswork out of the insurance process by helping you understand the ins and outs of your homeowner's policy and walk you through the claims process.
It's important to keep in mind that some policies cover the full costs of your roof up to a decade and then only pay out on the depreciated value after that. Others only pay you the depreciated amount from the get go.
Take Care Of Your Roof's Health By Calling KC Roof Doctors
While hail-damaged roof shingles may not be an immediate cause for concern — depending on the severity of the damage, of course — getting your roof inspected as soon as possible after a storm increases your likelihood of getting your damage covered.
When you choose KC Roof Doctors to help with your roofing hail damage, you can be confident we'll be there for you from our initial inspection to the final farewell.
Our expert roofing contractors use top-quality materials and are thoroughly experienced in the best roofing repair and replacement practices. It's no wonder our neighbors in Kansas City have relied on us as their roof doctors of choice since 2010.
If you believe you've suffered hail damage after the latest storm — or you simply aren't sure — fill out our online contact form and a member of our team will reach out with your free quote. We look forward to restoring your roof to full health once again.